Having the right duck hunting wader guarantees you a comfortable and warm hunting experience and conveniently increases your chances of landing a kill.
Check out this roundup of the nine best duck-hunting waders and tips to consider when buying one.
RELATED: Coyote Hunting in Colorado | It's a Game!
9 Best Duck Hunting Waders You Need to Get Yourself Right Now
1. TideWe Duck Hunting Waders
Besides the durability and sturdiness that come with the tough neoprene shell complemented by a stretch liner, TideWe waders also feature double-stitched and sealed seams to guarantee you zero leaks.
Also, with inbuilt rubber boots that are ultra-insulated to keep your feet warm regardless, the TideWe waders are every hunter's dream. Moreover, the boot has a reinforced vamp for extra puncture resistance.
With TideWe waders, slips, or falls are a non-issue – their ragged tread pattern offers enough traction hence outstanding balance on muddy and wet surfaces. Not to mention pockets to keep your items dry and warm your hands.
2. Hodgman Mackenzie Fishing/Hunting Waders
Are you looking for flexible and lightweight boot-foot waders for fishing or hunting? Then this is the water you need.
Unlike rubber waders, these come with a tough nylon shell that increases flexibility and reduces chafing.
Furthermore, the waders have a cleated PVC boot that is more durable than the rubber ones, internal pockets, and adjustable suspenders for a more snug fit.
3. Allen Big Timber Chest Waders
Featuring a high back design with a waist belt, adjustable suspenders, and insulated rubber boots, these chest waders offer you the best of the comfort and functionality worlds – especially in deep waters.
The 3.5mm neoprene construction leaves nothing to worry about warmth or durability regardless of season and environment. And inbuilt knee pads for a little more protection and comfort.
4. FROGG TOGGS Men's Waders
If you wonder whether the Frogg Toggs brands make as quality waders as they do rain gear, they do.
The waders have a 3.5mm neoprene upper with a high-back design allowing you freedom to wade deeper.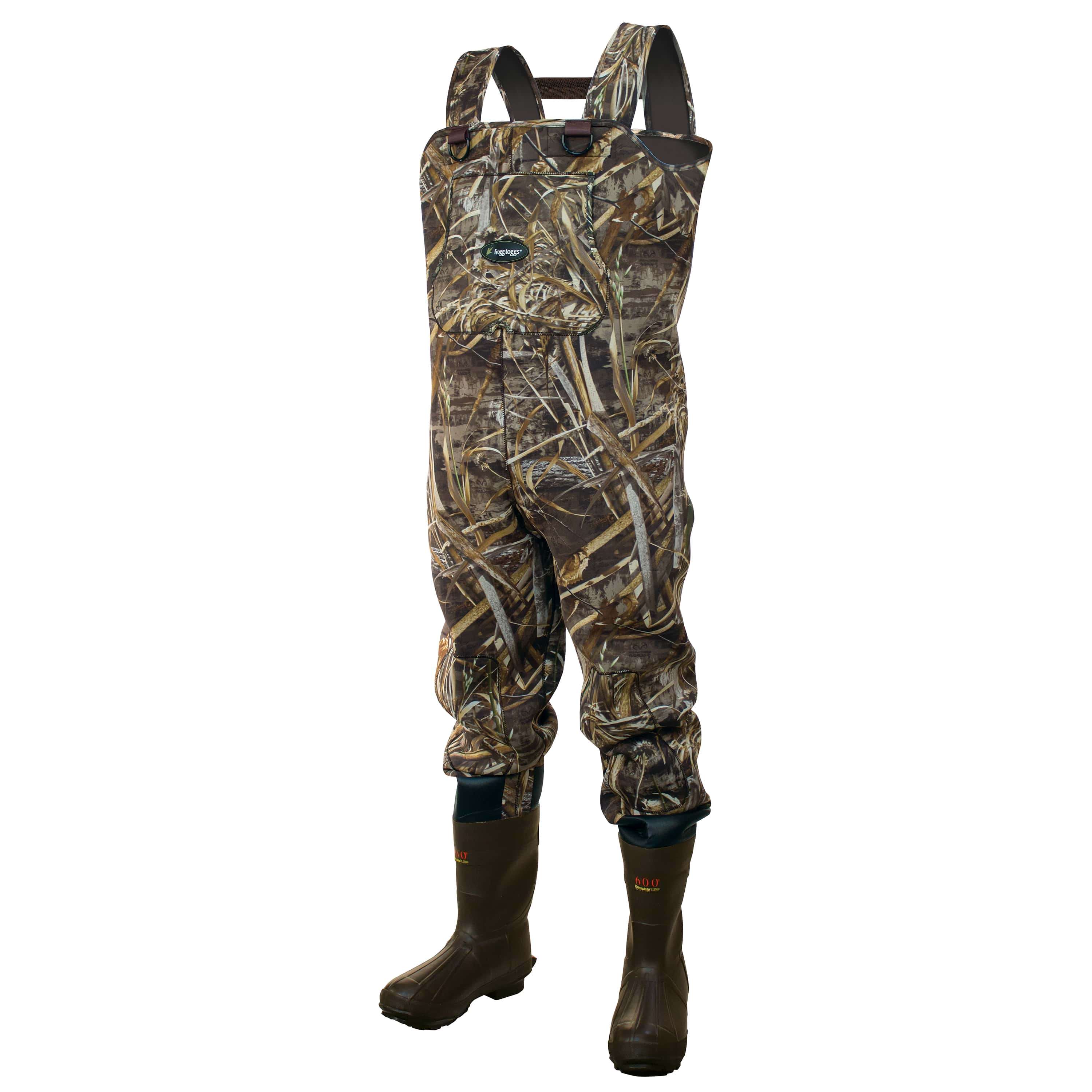 The waders also ensure comfort with adjustable hook-and-loop neoprene suspenders for proper fitting and reinforced knees.
Don't worry about your belongings – these waders come with pockets to keep items dry and warm your hands.
5. Hodgman Caster Neoprene Cleated Bootfoot Chest Waders
You will love this neoprene boot foot wader by Hodgman. It's perfect for the colder months with its 3.5 mm neoprene construction that provides enough warmth for hunters and anglers.
The knees are double-layered reinforced for guaranteed durability. Additionally, it has a top entry pocket with a fleece-lined hand warmer pocket.
6. Foxelli Neoprene Chest Waders
Foxelli waders are constructed for comfort as they are for functionality. The Foxelli Neoprene Chest Wader features adjustable elastic suspenders with quick-release buckles for an exceptional fit and flexibility.
To conveniently carry your hunting gear, the waders feature D-rings, belt carabiners, and waterproof pockets.
Lastly, these waders come with lightweight PVC boots with anti-slip soles to ensure sturdiness while hunting.
Important: It comes with a nylon carrying bag for more comfortable wander handling and a 30-day money-back guarantee.
7. XMRS Kids Candy Color Chest Waders
Do you have kids between the ages of three and ten who keep asking to tag along? Well, now they can, thanks to the XMRS kids' chest waders.
With a breathable pure cotton lining, you can bet your kids will stay warm and dry during hunting, fishing, or any other outdoor activities. Also, the high-quality PVC fabric makes the wader light enough for kids to wear.
8. HISEA Chest Waders
Hisea chest waders are designed with durability, sturdiness & protection of outdoorsmen in mind.
The flexible 4.5mm neoprene laminated to a nylon jersey liner braves the outdoors while trapping body heat to keep you warm.
Consequently, the waders come with user-friendly features like adjustable suspenders, eight shell holders for easy accessibility during reloading, quick-release buckles, reinforced knees for durability, and one built-in pocket to carry items.
9. Bassdash Men's Convertible Duck Hunting Waders
If you want a more versatile wader, then Bassdash convertible waders are your best shot.
Change it to waist-high by unclipping the locks on the suspenders and folding down the chest part to waist-high.
The waders also boast an adjustable, two-inch belt with quick-release buckles and utility loops to attach your hunting gear. And large pockets with waterproof zippers.
Important: Besides waterproof zipper closures, the hand warmer pocket is lined with fleece.
Things to Consider When Buying Duck Hunting Waders
1. Where You Are Hunting
Mud, frozen water, and thorns are some of the environmental factors you need to consider when buying duck hunting waders.
Reinforced neoprene waders are more likely to withstand the effects of jagged ice and thorns than breathable material.
On the other hand, stocking-foot waders will be more suited to walking on muddy surfaces, while the boot-foot waders will do better in water.
2. How Often You Hunt
The frequency of your hunting trips will significantly dictate the kind of duck-hunting waders you buy.
Therefore, you will have to dig deeper into your pocket if you want a wader that you wear for a long time. However, there are cheap waders that do not guarantee longevity and quality.
3. Your Budget
Budget is by far the most considered factor in making purchases, and waders are no different. The best thing is to do some due diligence to know what is available in the market.
This way, you better your chances of acquiring affordable, quality, and functional waders if you are unwilling to spend much.
4. Nature of Your Hunting
If your hunting requires minimal movement and more sitting down, you will most likely want to buy a warm and comfortable duck hunting wader.
However, if you move around a lot, a breathable and lighter wader is ideal to regulate your body temperature.
Watch this video from Chasing Green on an epic marsh duck hunt: 
Duck hunting is fun, but it requires you to spend most or all day standing in cold water hence the need for a comfortable and quality wader to limit exposure.
For this reason, settling for a wader is not easy, but with this guide, your choices are now narrower and manageable.
Do you have other tips that are important to consider when buying hunting waders? Let us know in the comment section below!
Up Next
Coyote Hunting Light For Your Hunting At Night | Coyote Hunting Lights
Follow us on YouTube, Twitter, Tumblr, and Pinterest!
Disclaimer: All content on this site is for informational purposes only. Please read our full disclaimer here.
Editor's Note: This post was originally published on December 28, 2020, and has been updated for quality and relevancy.