As the first shots rang out Sunday, first responders realized that the gunfire was raining down on the crowd from a vantage point up high. "It's coming out a window," a first responder shouts on dispatch audio obtained by CNN.
Attention soon focused on the Mandalay Bay hotel, several floors up and several hundred feet away.
CNN law enforcement analyst Art Roddick said he was struck by the planning that went into the attack.
"Firing from an elevated position is always what you want to do, so I would not be surprised if we have some video of him actually standing in that venue looking up at Mandalay Bay and trying to figure out which room is going to give him the best advantage.
"You can see those windows are knocked out, one in the front and one in the corner, which gave him two different angles to shoot from and that's all part of this planning," Roddick said.
The presence of other hotel guests in the rooms surrounding Paddock's meant that police couldn't return fire from the ground, he explained.
Police entered the hotel to begin working their way to the shooter's sniper nest.
"A team of six officers that approached security, they went up the elevators after discussing the situation with the security and obtaining intelligence," Lombardo said.
"And they checked each floor by floor until they located where they believe to be the room," the sheriff said.
High up on the hotel's residential floors, a first responder radioed in: "I'm inside the Mandalay Bay on the 31st floor, I can hear automatic fire coming from one floor ahead… one floor above us."
"Subsequently they approached the room, received gunfire, they backed off and SWAT responded," Lombardo said.
Undersheriff Kevin McMahill said once the first responders had "isolated this individual to the two rooms, our SWAT team used the explosive breaching to go in and confront the individual."
A SWAT officer is heard on police radio: "We need to pop this (door) and see if we get any type of response from this guy. See if he's in here or if he's actually moved somewhere else."
Once inside the room, police found the shooter dead, apparently from a self-inflicted gunshot. Lombardo said police believe Paddock "killed himself prior to our entry."
The attack was a threat police could not have prepared for, McMahill said.
"These folks were attacked by a man from 32 stories up with automatic rifle fire and so I don't really know how you plan for that. We just didn't see it coming."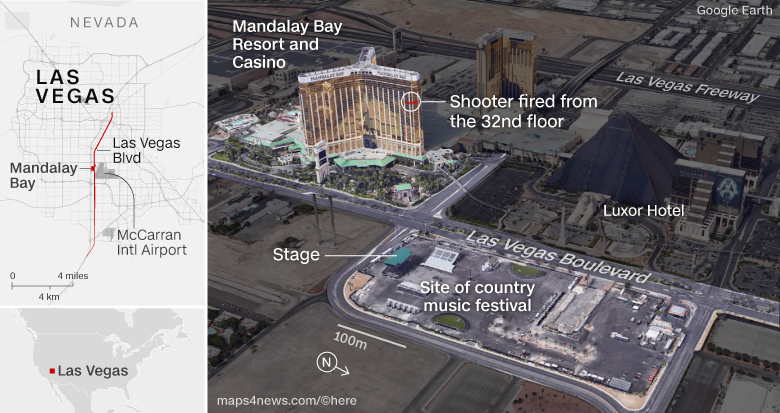 Although authorities still don't know Las Vegas shooter Stephen Paddock's motive, a portrait has begun to emerge of the killer.
Paddock, a California State University Northridge graduate, has been described as a retired, twice-divorced accountant with no known children.
The 64-year-old Mesquite, Nevada had no significant criminal history and was previously unknown to police. He worked for the US Postal Service, IRS, and the Defense Contract Audit Agency.
"He was an army of one," his brother, Eric Paddock, said Monday. "He had a girlfriend, but he hung out by himself and did stuff."
Authorities have identified Stephen Paddock's girlfriend as Marilou Danley.
Eric Paddock described his brother as avid video poker player who went on cruise ships and sent his mother boxes of cookies. The siblings' father was a convicted bank robber who was on the FBI's most wanted list, from June 10, 1969, until May 5, 1977, the FBI said.
"There's absolutely no way I could conceive that my brother would shoot a bunch of people that he didn't know," Eric Paddock said on Monday.
"Something just incredibly wrong happened to my brother," he said.
From CNN's Holly Yan, Madison Park and Emanuella Grinberg